Portfolio
Community Hired is a small company doing big things.
We provide a full-service solution that does it all — We cover monetization, community management, migration, design, cost savings, technical support, security protocols, and GDPR compliance.
Community Hired is one of the few able to meet the full needs of an online forum community.
NIKETALK.COM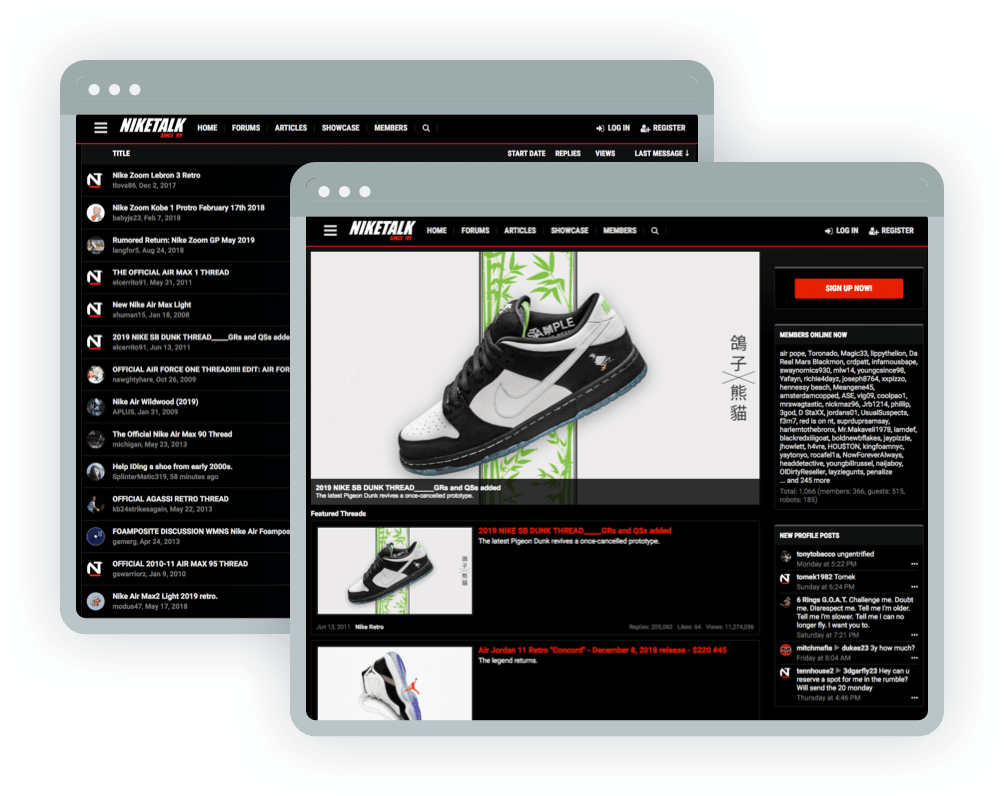 Founded in 1999, NikeTalk is the ultimate online community of over 175,000 sneaker fans chatting about sneakers and related topics.
When it came time to migrate their community to xenForo, they were in need of an out-of-the-box solution for big forum communities. Click through to see how Community Hired met all of their needs.
With NikeTalk's future hanging in the balance, we entrusted Community Hired with a challenging data migration project. …they executed it flawlessly.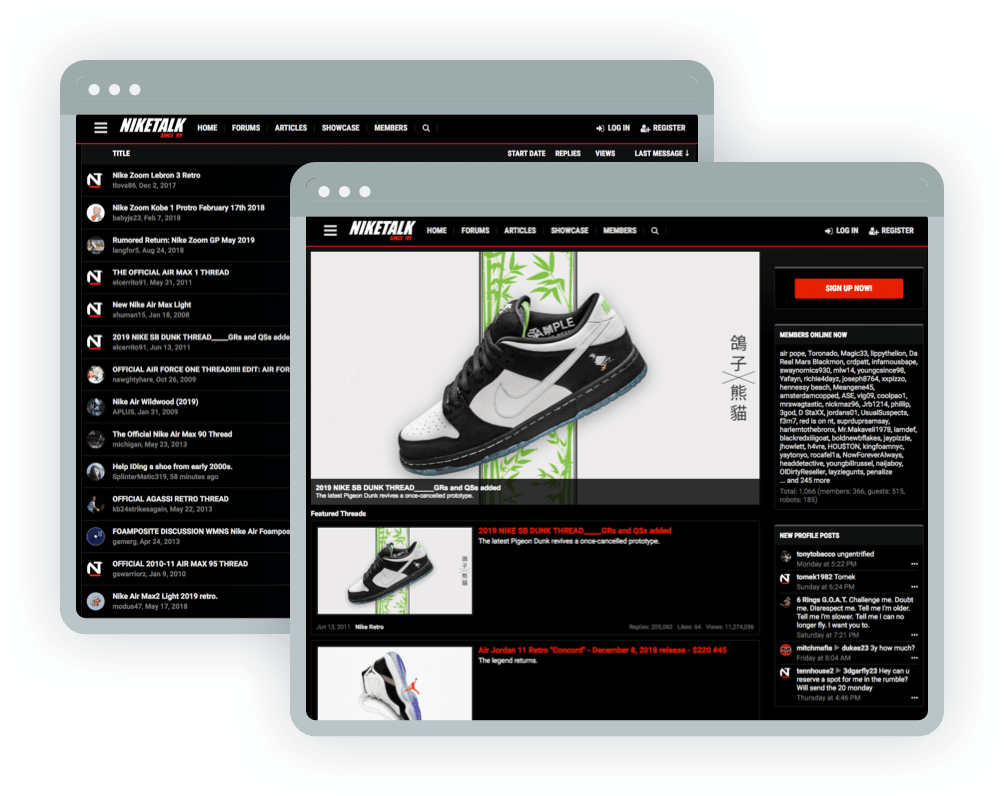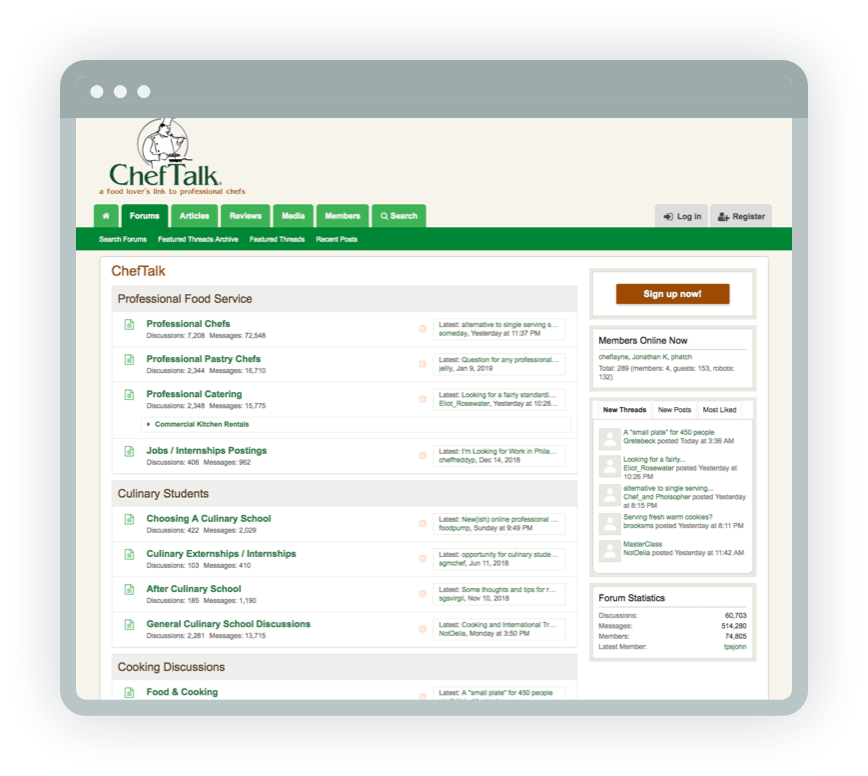 CHEFTALK.COM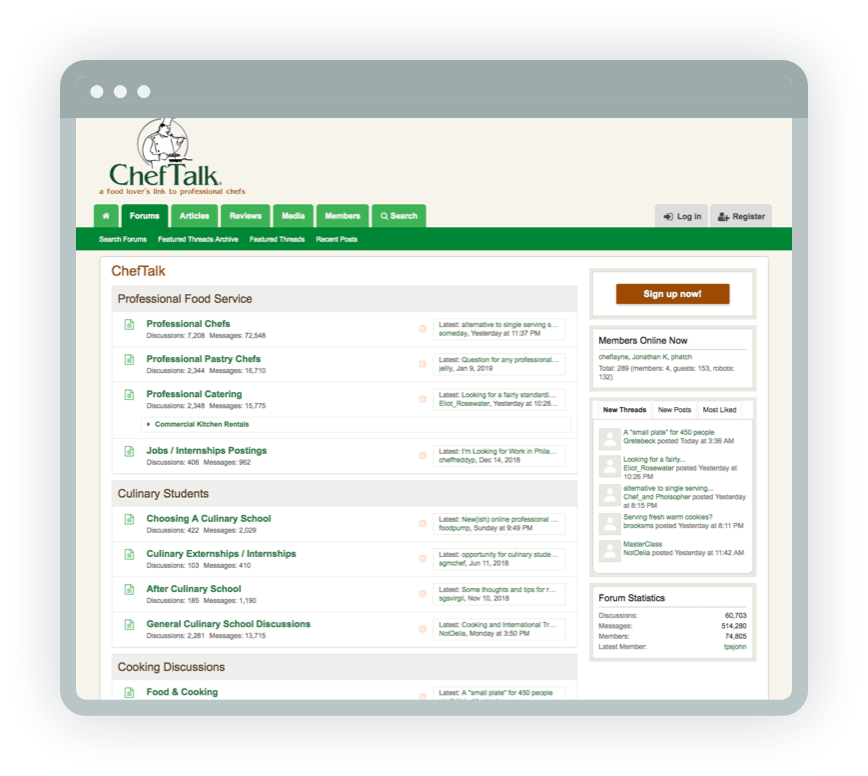 ChefTalk is a forum community for trained chefs, culinary students, and amateur cooks. ChefTalk was seeking xenForo migration assistance and a community management team. Click through to see how Community Hired was able to meet all of their needs with our partner-facing service package.
Great customer service and they truly care about the site owners and communities needs.
As founder of NikeTalk.com, I would like to thank the team, and our partners, over at Community Hired.
Their around the clock efforts, hard work, and constant support services ensured not only NikeTalk's survival but its ultimate success.
Community Hired handles a wide range of services critical to NikeTalk's operations, including, but not limited to: ad ops, hosting, user support, data management, software maintenance, feature development, and event planning.
With NikeTalk's future hanging in the balance, we entrusted Community Hired with a challenging data migration project, transferring over fifteen years of data from a proprietary format to the [xenForo] platform and they executed it flawlessly. In nearly two decades of operation, NikeTalk has worked with some of the largest forum networks in the world: ezboard, Yuku, and Wikia/Fandom.
Community Hired has outworked and out performed them all.
Their immeasurable help to our community and its members cannot be overstated, and I highly recommend them to any community owner out there. Today, NikeTalk runs better than ever – and we're seeing record numbers.

Community Hired was a lifeline for TheCatSite when we had to migrate the site into a new platform.
Switching an established community of over 100,000 members to new forum software is an extremely complex process, on so many levels.
Community Hired was an invaluable asset, leading this huge project and making sure everything worked. They took care of everything, from software issues and database migration to managing the community's reaction.
Thanks to Community Hired, we've had an exceptionally smooth and painless transition!
Moving forward, Community Hired continues to provide TheCatSite with excellent community management services. As a forum owner, I know my site is in good hands, whether I'm around or traveling.

Community Hired is what Seth Godin would call a Linchpin.
They're indispensable and go above and beyond any WordPress developer I've ever worked with. Stephanie genuinely cares and makes sure your brand is represented in the best way possible.
When I was at a business conference my WordPress site was having issues and within minutes of speaking to Stephanie she and her team re-cloned my site, made it mobile friendly, and fixed every bug on the back end all while I was networking and meeting potential clients. She didn't have to be handheld and completely anticipated my needs.
I'd tell anyone I meet to not hesitate for one second hiring Community Hired!"