Founded in 1999, NikeTalk is the ultimate online community for sneaker fans with over 175,000 members. NikeTalk has an average of 2,500+ real users online at any given moment, roughly 10 million monthly pageviews, and an average of 20 minutes per user session. 60% of which are on a mobile device.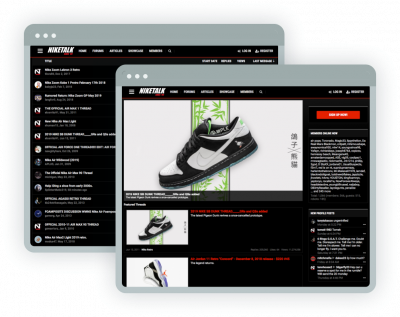 NikeTalk is a large forum with a custom forum setup and website design, and when it came time to migrate their community to xenForo, they needed an out-of-the-box solution. A company that could retain existing content and membership data with minimal site downtime, provide a responsive mobile experience, improve their ad revenue, and enhance user experience. All while being conscientious about security and privacy. Additionally, they were seeking a long-term relationship with a community management company that could support their existing team.
With NikeTalk's future hanging in the balance, we entrusted Community Hired with a challenging data migration project, transferring over fifteen years of data from a proprietary format to the [xenForo] platform and they executed it flawlessly.

Community Hired service package met all of their needs, and we were able to migrate their entire site to a dedicated server with a bonus of restoring data lost in a previous move. This included forum discussion posts, images, membership data and more. Additionally, since the migration, we have been able to streamline the site, enhance mobile experience, improve ad operations, and boost forum support by helping the site owner and moderation team.